There are numerous benefits of joining a Chamber network. Whether it's sharing ideas and feedback with other local businesses at round table sessions, building connections through programming and events, or collaborating on projects and volunteer opportunities, the ability to come together as a business community is critical to develop and maintain a strong local economy.
The Chamber also provides a variety of marketing opportunities, exclusively available to members. View our Sponsorship Menu for a complete list.
For more information regarding Chamber Membership, please contact us at (218) 444-3541 or email chamber@bemidji.org.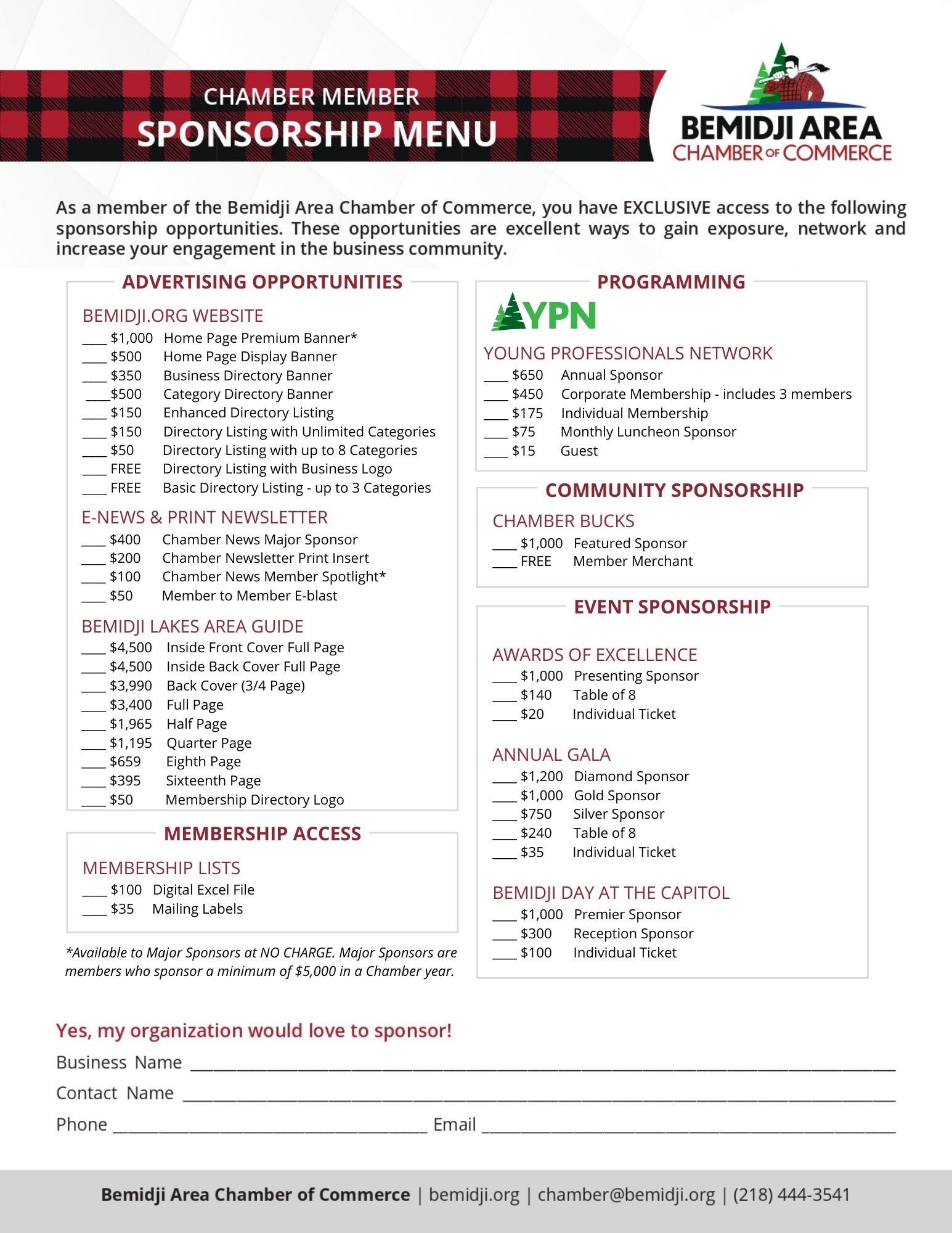 Bemidji Lakes Area Guide
Chamber Blog and E-Newsletters
Chamber website
Access to the Membership Information Center
Directory listing & enhancements
Banner ads
Event calendar posting
Job posting
Hot deals
Sharing and recognition on social media
Event and programming sponsorships
Business After Hours Showcase
Community Round Table Discussions
Chamber Awards of Excellence
Chamber Annual Meeting
Chamber Annual Gala Celebration
Professional Development Lunches
Young Professionals Network (YPN)
HR Connections
Volunteer opportunities
A Voice at City, State and Federal Government
Your eyes and ears on public policy
An advocate to stop unfair tax changes and protect growth
Your champion for a healthy economic climate
Bemidji Day at the Capitol
Grow Bemidji!
Regional Hiring Fair
Business Services & Resources
Discounts to networking events
Access to community information
Access to key contacts for area businesses
Access to member mailing lists and mailing labels
Connections to local officials and organizations
Chamber Board of Directors
Chamber Ambassadors
Special Events Committee
Grow Bemidji!
YPN Leadership Council
CEO in the Classroom
Lake Bemidji Dragon Boat Festival committee
Member decal to post at business
Usage of chamber logo on company website and other marketing materials
Chamber website directory listing
Bemidji Lakes Area Guide listing
Referrals: We receive requests daily from consumers and other businesses looking for various products and services